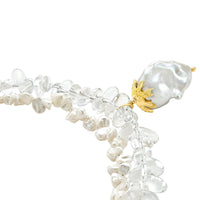 This necklace is a tribute to "Leuca", a small village of the very South of Italy. It means "white" in ancient greek because when looking at it from the sea, the village looked like a white fabric laying on the rock.
The Leuca Necklace evokes summer, empire silhouettes and sandals for a Greek goddess like look.
It is made of two strings: one of tiny pearls with side holes that create an up and down movement; and another string of small beads of rock crystal quartz. The pearl pendant is topped with a gold plated element. 
Slight variation of size and shape may occur due to the nature of materials and handmade process.
Length: 40cm
Pearl: 19mm - 25mm